The Beauty GRANT! 50% OFF Cosmetology Training | Pink NEWS December 2020
1.1 Introduction
We have launched The Beauty Grant! The Beauty Grant covers 50% of student tuition cost for our online or in- class learning at the National Association of Estheticians. Limited Spots Available! Apply at naeinc.ca/apply-now.
Covid- 19 has caused substantial job loss and damage to the economy. Hospitality, construction, and transportation sectors have greatly changed. Many individuals are looking to receive affordable training for a new skill to re-enter the market.
The beauty industry remains open and continues to grow on a macro level. The target market for potential future cosmetologists include women in hospitality, nightclub workers, entertainers, stay at home mothers, students and most other women. Cosmetologists can provide most beauty services with a face mask on including hairstyling, lashes, eyebrows, nails, and hair removal. Cosmetologists can work from home, mobile or in a salon. As globalization continues, the beauty services grow and expands across the world.
The National Association of Estheticians sees opportunity in said market and is encouraging individuals as well as salons to cross train in a variety of beauty services. We provide affordable training to new and experienced cosmetologists with mix of online and in- class learning.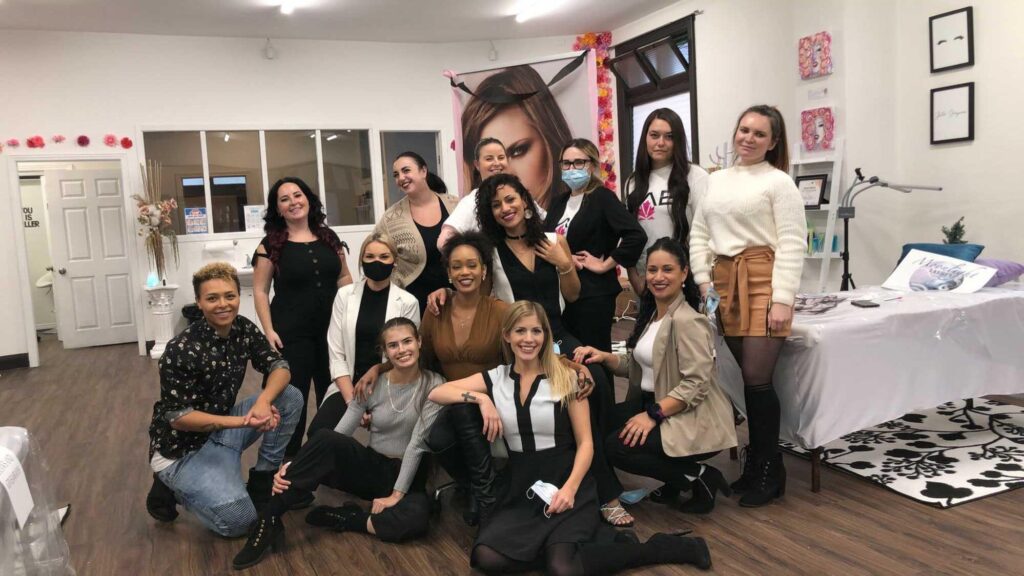 1.2 Who We Are
The National Association of Estheticians provides thorough vocational training courses in the beauty industry by using online and practical learning. Our goal to set an industry standard for quality training courses and student support. Increasing quality training and student support increases client safety, esthetician safety, student success and employment.
We are a corporate partnership between two esthetic professionals, Marysa Reid and Kalleigh Sharp. We have over 20 courses available for purchase. Both directors are entrepreneurs and estheticians. Both entrepreneurs entered the beauty industry in 2017. Kalleigh's company, NV Beauty Boutique focuses on promoting and marketing third party esthetic services. Marysa's company is a successful beauty salon in Thorold, ON., providing eyelash and skin care services. During a meeting in June 2019, the women discussed the lack of affordable quality training courses in the area. The women partnered together to form the National Association of Estheticians Inc.
Both entrepreneurs have their own strengths and are from different backgrounds.

Marysa Reid, Owner of Making Waves Beauty is the primary contact for operations and student support. Marysa is trained in lash extensions (2017), lash lifts (2018), microdermabrasion (2018), laser hair removal (2019), skin rejuvenation (2018) and brow lamination (2020). Marysa attended several beauty schools including Sugarlash Pro, Sharplight Technologies, the London Brow Company. Marysa continues to expand her network in the beauty industry at both of her businesses.
Kalleigh Sharp, Owner of NV Beauty Boutique is the primary curriculum developer. Kalleigh is the lead marketing coordinator and manages online student enrollment. Kalleigh attended Pro Beauty Academy for Hair Extensions, lash extensions and microblading (2018). Kalleigh is a University of Guelph graduate and experienced marketing agent for Bella Vita Injectables, Ancaster, ON., Glo and Go Tanning, Niagara Falls, ON., Making Waves Beauty, Thorold, ON., Eye Candy on Lakeshore, Oakville, ON., & various companies.
1.3 The Beauty Industry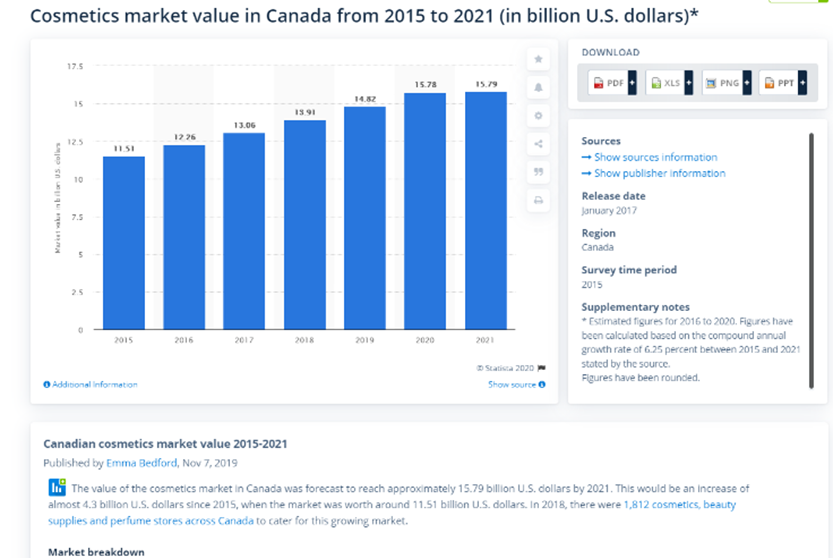 Canada ranks number 1 globally with a $1.4 billion dollar beauty market (Berencsi 2014). "Being a global leader in the sales of makeup shows the industry is capitalizing on the evolving and diverse needs of the beauty consumer, which bodes well for sustained category growth." (Berencsi 2014).
The Canadian beauty industry grew by +9.4 per cent in 2017(Berencsi 2014). Leading growth drivers included the makeup (+8.1 % to $485 Million), skincare a (+12% to $409 Million) and fragrance at (+7.6% to $239 Million) (Berencsi 2014). The value of the cosmetics market in Canada is expected to reach around 15.8 billion U.S. dollars in 2021, an increase of almost three billion U.S. dollars from five years previously (Bedford 2018).
According to Forbes, there is at least 40 prominent beauty start ups today founded by women, making the $445 billion industry one of the most prevalent places for women to self-start their way to big-time success (Kestenbaum 2018). "It's never been a better time to be a beauty entrepreneur" (Kestenbaum 2018). The three driving factors in the beauty industry include:
Consumers: enjoy trying new instagrammable products and brands.
Young independent brands and entrepreneurship: providing unique services and brand new ideas.
Acquisitions by the major beauty companies of smaller companies are drawing in more founders and driving creativity (Forbes).
Jennifer Hessel, an industry consultant and L'Oreal describes four of the fastest growing trends:
The instant fix: instant gratification received after a beauty service.
The doll look: using heavy makeup or surgery to create a look is more porcelain look.
Natural skin care products: the skin category continues to expand with more natural, clean products.
Customization and personalization: using data and customer input to create individualised products as a form of luxury (Forbes).
In Canada, there were more than 3,100 cosmetics, beauty supplies and perfume stores in 2016 (Bedford 2018). In the past, the focus of a beauty salon was on hair styling or nail salons. As new services develop, beauty salons expand in services. For example, there is an increase in eyelash extension and eyebrow bars. NAE predicts that as new services arrive, there will be an increase in beauty salons as a "one stop beauty shop".
The National Association of Estheticians provides vocational training courses by using online and practical learning. Courses are split in theory and practical training. The theory portion of training is available online or hardcopy. Practical training is available over zoom or in- class depending on the beauty course. Once students pass the practical training, they receive their certificate of completion.
Some courses may recommend purchasing a basic or advanced starter kit. These kits range in a variety of prices depending on the beauty course taught. The starter beauty kits are sold separately. The Beauty Grant does not cover the cost of the starter kit.
2.2 Eyelash Artist Training
Long lashes are a beauty trend that draws attention to the eyes. Like they say, beauty is in the "eye" of the beholder. Long lashes create a wakeful look.
Classic Eyelash Extension Training $699
Classic Eyelash Extension Apprenticeship $1299
Lash Extension Refresher Training $399
Volume Eyelash Extension ad on Training $499
Master Eyelash Extension Training Volume & Classic $999
Lash Lift Training $499
Master Lash Artist $1299
Eyelash Extensions
Eyelash extensions are designed to extend the length, curl and fullness of natural eyelashes. They are made of silk, mink or synthetic mink material (Reid, 2019). They are attached to the natural eyelash with a specially formulated lash extension adhesive. Lash extensions are available in different lengths, widths, and curls, as well as different colours. Classic lash extensions come in both standard (round) or flat (ellipse) styles. For volume lashes there are volume fans (handmade) or premade volume clusters. Other options for fuller lashes include false strip lashes or temporary volume clusters.
Eyelash Lifts
Lash Lifts extends the length and curl of natural eyelashes. It is a low-maintenance lash perm that lifts & enhances a client's natural lashes. These are becoming a common substitute for eyelash extensions. Lash lifts can be performed on individuals simultaneously with brow lamination, lift and tint, or other eyebrow services. Eyelash lifts lasts 3-4 weeks and is performed in under 45 minutes. Lash lift training is also available fully online.
2.3 Hair Extension Courses
The hair industry is a multibillion-dollar market. Hair extensions have been becoming more popular ever since the 80's. If hair extensions are not installed properly, they can cause damage to the hair as well as hair loss. A proper hair extension training course is necessary to educate and train a professional hair extension technician. As the industry continues to grow, companies are coming up with other ways to make extensions.
Fusion Hair Extension Training $499
Microlink & Nanolink Extension Training $499
Tape in Hair extension Training $499
Master Hair Extension Training $999
Fusion Hair Extensions
Fusion hair extensions are one of the top beauty trends. Fusion extensions provide a natural look and are long-lasting. Also known as the"glue-in" method, the hair extension tip is a square-shaped keratin protein bond which is heated up and melted onto your hair. It is extremely important to have a professional take out the bonds after use to avoid damage to your hair.
Tape in Hair Extensions
Tape-in hair extensions are attached by placing human hair in between two pieces of hair extensions. They last 1-3 months and the hair can be gently combed and washed while wearing the extensions. This method of installment is for client who want extensions that can be easily installed and taken off.
Microlink Hair Extensions
Micro-link/ micro-ring/ micro-bead/ micro loop hair extensions use a small bead to attach the extension hair to the natural hair. Micro ring hair extensions need re-positioning every two to three months as the natural hair grows and the micro-beads move away from the scalp. Micro ring hair extensions can be reused several times. This method of hair extension causes less damage than other methods.
2.4 Skin, Nails and Teeth Courses
Most of the skin and teeth courses are available online or in- class.
Microdermabrasion Training $499
Microdermabrasion training (online) $499
Spray Tan Training $799
Spray Tan Training (online) $699
Teeth Whitening Training $799
Teeth Whitening (online) $699
Makeup Training Basic $699
Makeup Training Advanced $1999
Facial Training $299 (March 2021)
Manicure and Pedicure Training $699 (February 2021)

Micro needling (March 2021)
Microdermabrasion
Microdermabrasion is a non-invasive, non- chemical skin resurfacing treatment. It exfoliates the outer most layer of dead skin cells while stimulating collagen growth to reveal healthy new skin that looks and feels smoother. Fine lines, blemishes, dull skin, mild scarring and sunspots can be improved, especially with regular treatments. Products such as moisturizers, creams and lotions are more easily absorbed and therefore more effective after microdermabrasion treatment. This is a painless, low-risk skincare treatment that can be added to your beauty routine. This course is also available fully online.
Spray Tanning
Sunless tanning give skin a tanned look without exposing it to UV rays. Spray tanning involves spraying the skin with a formula making it appear more tanned and even. It is a safer way to tan compared to tanning beds and sun tanning. It can be performed in a tanning salon, beauty salon from home or mobile. This course is also available fully online.
Teeth Whitening
A smile is the most beautiful thing a girl can wear. A bright, beautiful smile shows happiness and confidence. There are several methods of teeth whitening available today. Teeth whitening can be performed by dentists, medical estheticians or beauticians. Teeth whitening continues to grow in demand. This course is also available fully online.
Makeup Application
Understanding the compounds of makeup, history of makeup, application tips, strategies and a thorough consultation is necessary for the success of your small business. The Makeup Artist Basic course teaches makeup application on self. The advanced course focuses on makeup application on other individuals.
Facials
Facials are a common basic esthetic service to rejuvenate skin. Facials involve using mixing ingredients with types of skin for different results. The Facials course is launching March 2021.
Micro Needling
Micro Needling is an invasive- beauty service skin rejuvenation. The Micro Needling course is launching March 2021.
Manicures and Pedicures
Nail Art is a common beauty service provided at salons. This course is launching February 2021.
2.4 Hair Removal Courses
Three common hair removal methods include sugaring, waxing and laser hair removal. Choose between a variety of hair removal courses to match your level of expertise.
Sugaring Basic Body Training $599
Sugaring on Men Training $199
Bikini Sugaring Training $199
Master Sugaring Training $799
Facial Sugaring Training $199
Waxing Basic Body Training $599
Waxing on Men Training $199
Hairlessness is a norm served in culture. Between 1915- 1945, there has been a dramatic change in women roles. In 1915 there were not many ads for hair removal or removal products. This is because the body was not visible because of clothing styles. Hair on places other than the head was considered unnecessary and ugly. In 1920, ads were focused on changing the human body. Mouthwash, deodorant, tooth products and sanitary napkins were new products. There was a vision of a tasteless, colorless, odorless, sweat less world.
Body Sugaring
Sugaring is a hair removal method that has been around since ancient times. It involves a natural paste removing hair in the same direction of hair growth. Sugaring is more forgiving on the skin, biodegradable and more forgiving then waxing. The sugar paste contains only natural ingredients. A basic recipe for sugar paste includes water, sugar and lemon. Other ingredients can be added to increase aromatherapy. Cornstarch can be added to thicken the paste. Other possible ingredients include honey, molasses, essential oils, argan oil, tea tree extract or azulene oil.
Waxing
Waxing is an epilation hair removal method used on all parts of the body. Waxing involves the use of warm wax applied to the skin with a single-use disposable cloth. The strip is then rapidly pulled off away from the skin to remove the hairs. Wax manufacturers have different ingredients. If purchasing wax from a manufacturer overseas, the esthetician becomes the Canadian manufacture as they are importing the product.
Laser Hair Removal
Niagara Falls and St. Catharines Laser Hair Removal involves meeting in our Thorold location to undergo a painless procedure. Laser Hair removal uses a machine to remove the hair follical. The laser hair removal process can be done multiple times and creates a longer lasting result.
2.5 Eyebrow Courses
Eyebrows trends continue to change. Cosmetologists can provide a variety of skills including eyebrow threading, microblading, brow lamination, lift and tint.
Eyebrow Mapping Training $99
Microblading Training $1799
Brow Lamination Training $499
Brow Lamination Training (online) $499
Brow Tint Training $499
Brow Tint Training (online) $499
Brow Lamination, Lift and Tint $599
Brow Lamination, Lift and Tint (online) $599
Eyebrow Threading Training $299
Brow Waxing & Shaping $299
Brow Waxing & Shaping (online) $299
Master Eyebrow Training $1999
Microblading
Microblading is the semi‐ permanent, cosmetic tattoo procedure to fill in sparse eyebrows. Perfect eyebrows create symmetry to the face and enhance natural beauty. They add shape and fullness to the face giving it a youthful and uplifted look. Microblading creates the impression of a fuller, natural eyebrow.
Brow Lamination, Lift and Tint
A full brow lift and tint treatment includes shaping the brows, waxing or sugaring, tweezing, tinting and brow lamination. Originating in the U.K. eyebrow lamination is sweeping the nation. It involves straightening the brow hairs using several solutions to create a full, thick, slicked, defined, fluffy brow shape. Custom looks can have a brow fade, raise a client's arch, extend their tails or give them a messy brow.
Threading
Threading is a traditional hair removal technique that involves plucking and cutting hair using a thread on eyebrows and facial hair. Custom brows can be cleaned and shaped, have a raise a client's arch or change brow shape.